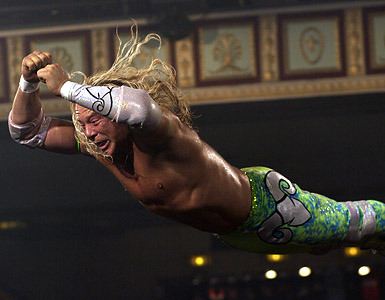 Alrighty then, I'm back from the best wedding and honeymoon EVER, and I'm stagediving straight back into the fray. I just loved that movie,
The Wrestler
, and since I'm feeling a bit haggard myself these days after all the excitement (culminating in the celebration of the start of my fifth decade of existence last week!) I now presumptuously fancy myself a Randy 'The Ram' Robinson of the cello world. A potential halloween costume? Jody, you wanna be Cassidy?
Anyway, 'the fray' mostly involves subbing in on cello for some Blue Rabbit
gigs
, starting out with a video recording of a studio performance at Ex'pression College for Digital Arts tonight at 11:30pm (contact me if you'd like to attend this private event - sorry about the late notice, I just found out myself last night!), followed by a gig at Kimo's in Nob Hill on Sunday night. Hope to see you there!
"With a little luck, this could be my ticket back on top!" ;-}