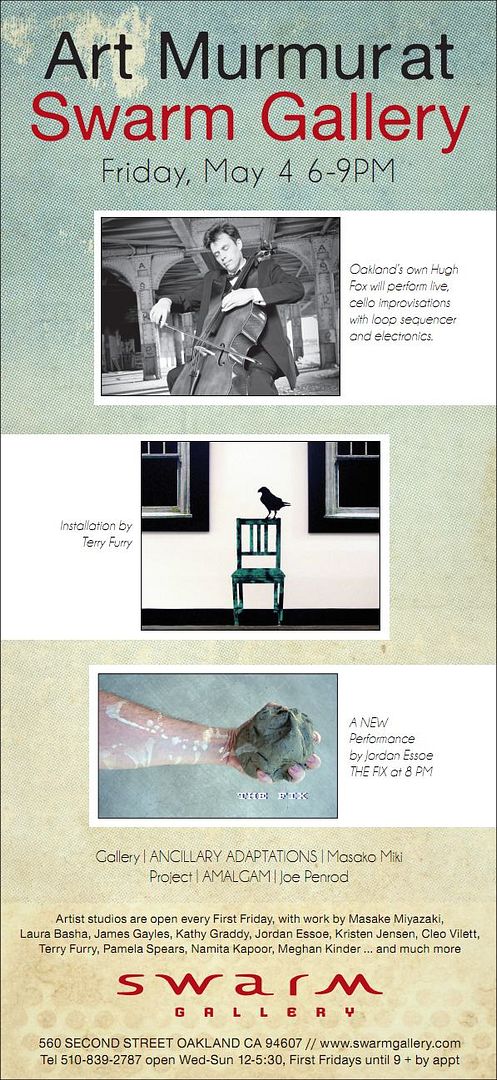 I've been on medical leave for several months, but am coming back strong, with several projects in the hopper!
I snuck in another class with improvisation guru and neighbor
Jim Grantham
, and finally brought my vision for JS Bach's Prelude to Cello Suite No. 1 before the public at a benefit in Berkeley, along with free improvisations with
Ron Heglin
and my cello sensei,
Gael Alcock
. And I'm working on a cello part for a recording by South Bay rock band Souljourn44, with heavy R&B influence and gorgeous female vocals.
And for
Oakland Art Murmur
"First Friday" this week I'll be rocking out at
Swarm Gallery
, a contemporary art gallery located in the Ironworks district near Jack London Square. While you enjoy exhibits by
Terry Furry
,
Jordan Essoe
,
Cleo Vilett
,
Masako Miyazaki
, etc., I'll be joined by longtime collaborator Matt Boston, who will lay down a driving bassline and sing while I improvise cello accompaniment for tunes by the likes of Tom Waits, The Doors, and The Police, etc. We may be joined by a special bonus vocalist, and will also perform one or two free improvisations – far-out!
We're planning to start around 6:45pm, and go for about an hour (followed by Jordan Essoe's performance art). Please join us!